As an auto repair shop owner, you want to do everything to gain new customers and improve your marketing results.
This auto repair shop marketing case study will walk you through different marketing strategies for other auto repair businesses. Use these tricks to drive more traffic to your shop and create a positive reputation as an honest and reliable mechanic.
Why an Auto Repair Shop Business is Unique
According to IBISWorld, the U.S. has roughly 258,000 auto mechanic shops, making auto repair a $63 billion sector.
According to the Census Bureau's data, sales at auto and other motor vehicle dealerships were up about 11 percent over last year, which is good news for repair shop owners.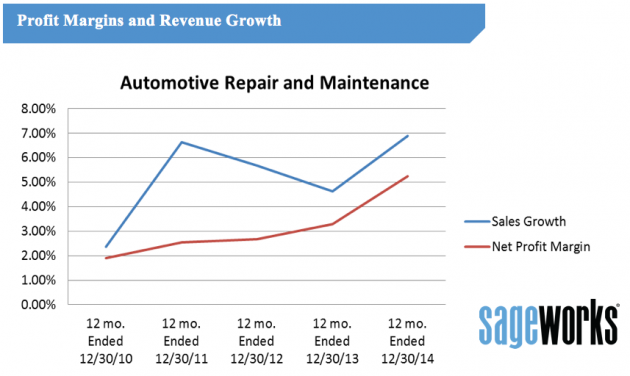 Nevertheless, how lucrative are auto repair shops?
Labor
To provide the best possible service, you must rely on the expertise and abilities of your employees. Paying your employees a fair wage is a great way to attract top talent. Look at local job listings to get an idea of hourly pay.
As enticing as it may be, hiring low-cost and inexperienced workers may backfire in the long run unless you expect to invest a significant amount of time and money in training.
In general, a well-trained individual can execute a task more quickly and with fewer mistakes.
Consider how long it takes your employees to finish a specific task when setting your charges.
It is essential to keep track of staff productivity to build a reliable timeline database. An hour to perform a coolant flush, for example, may take two to complete a brake replacement.
Customers will be more satisfied with your service if you provide realistic estimates, regardless of whether you include labor costs in your prices or charge a different hourly rate.
Scheduling
Making sure you get the most out of the wages you earn is just as important as making sure they are fair.
When your car repair shop is slow, having employees clock in and out is a waste of money. Instead, predicting the number of staff you'll need and when you need them is a great way to keep your labor costs in check.
To avoid having to deal with no-shows, use reminder calls or SMS.
Capital Costs
In addition to your employees, significant expenditures like rent or mortgage payments and equipment acquisitions are critical to your profitability.
For auto repair shops, a suitable location is essential. Renting rather than purchasing business premises can save money in the short term, rather than tying up your equity in down payment and a commercial mortgage.
In contrast, you are shielded from rent increases that could harm your financial situation if you own your property.
Additionally, you'll need to invest in and maintain your equipment.
The quality and speed of your job may suffer if you use old or faulty equipment.
There are many advantages to leasing equipment to provide your customers with a high-quality repair service. However, to stretch out the expense of critical equipment, equipment financing may be an option.
Expenditure Tracking
You can also safeguard profit margins by keeping a close check on your day-to-day expenditures. It is possible that, for example, you are being overcharged for the proper disposal of hazardous chemicals and oils.
Make sure you're charging enough for your services to cover your costs by conducting some research.
Also, keep an eye out for credit card transaction costs, which can eat into your profit margins. Finally, consider your sales volume and average order value when looking for the best prices.
Credit and debit card processing fees might vary widely from one company to the next. Also, getting quotations from your bank, insurance agent, and other accounts should become a yearly ritual.
Auto Repair Shop Business Main Challenges
These days, working in the vehicle repair industry is a difficult job. The vehicle repair sector receives a lot of flak for those who don't do their work well or overpay or care about their customers. However, the automobile is still very much alive and well.
Here are some things to keep in mind for those of you who care about the auto repair sector and are exceptional at what you do:
The public's interest in auto repair is waning
Partly due to an increasing interest in the internet, video games, and other virtual components such as the online world, children are less interested in cars and car parts and are less willing or able to get their hands dirty.
There are many reasons for this, including that new technology is constantly being developed to fix today's vehicles.
To counter this, you may choose to launch an apprenticeship program in your auto repair shop. People you know and students at the local technical institution may be able to assist you in your search for a trainee. When it comes to automobile repair, hands-on schooling is the best way to learn.
As a profession, the vehicle repair business is misunderstood.
As a result, mechanics face a considerable problem: either they're perceived as ripping off the unsuspecting consumer, or those who know a little about cars think it's not that difficult.
The best way to keep your clients from needing repairs in the future is to educate them on what you know, what's working, and what isn't.
Some of the most common problems with automobiles and how customers can help themselves could be communicated by email or direct mail. With time, you'll see a return on your investment.
Environmental concerns
Auto repair shops face many environmental concerns, from air and water pollution to hazardous waste.
As a result, your costs (and thus the customers) may rise without their knowledge.
Remember to educate your clients about how your shop operates and what it is doing on their behalf to ensure that their cars run smoothly and that they receive the best possible auto repairs.
Think about putting on brief workshops or lectures at your workplace. Update your customers on the new equipment you've purchased and how it improves their experience.
I don't want to brag about my accomplishments, but I want to assist people to understand why they should care. Always put yourself in your customer's shoes before you put yourself in your customer's shoes.
Even though they may not care about how much money you've spent on air quality permits, your painting and coating services may benefit from that.
Technical expertise but limited marketing skills
It's common for auto repair shops to be excellent at fixing cars but unable to sell their services effectively.
An example of this is Michael Gerber's The E-Fallacy, which describes the myth that a person's technical expertise does not necessarily translate into their ability to handle the marketing and strategy aspects of running their organization.
Over time, you'll notice that your skill is more concentrated on one or the other side, and you may outsource the 'other' component for a fee. In a subsequent post, we'll talk about how to market your vehicle repair business.
Pros and Cons of Auto Repair Shop Business
Pros
Reasonable Earning Potential
Auto technicians often make good wages, especially when considering that they do not need a college background.
According to the Bureau of Labor Statistics, the average yearly income for a service technician was $39,060 in May 2012. However, some mechanics, particularly those who own and operate their businesses, make much more than others. According to the Bureau of Labor Statistics, 10 percent of technicians earned at or over $60,070 per year.
Career Security
In addition, the industry of vehicle maintenance is substantial. Automobiles have long served as the primary mode of transportation for many people and businesses. As a result, the need for people who can fix them continues to be reasonably consistent.
From 2010 to 2021, the Bureau of Labor Statistics predicts that mechanics will have a 17 percent increase in employment, compared to a 14 percent increase in employment for all professions. Another advantage of being a vehicle repair professional is the opportunity to create your own business.
Cons
Uncomfortable Working Conditions
The physical repair shop itself might be in a state of extreme disarray. But, on the other hand, some are rather pleasant, while others are gloomy and need better temperature control systems. Regardless, automobile repair is a physically demanding profession.
When working on automobiles, mechanics often slip beneath them, deal with little equipment and components that are difficult to manipulate, and get grease all over their hands. If you don't mind getting your hands filthy, this is not the professional route for you.
Irregular Work Hours
When you work as a mechanic, your hours are often lengthy and unpredictable, particularly if you own and manage your own business. Some auto repair businesses are open in the evenings, while many more are open on Saturdays and Sundays.
This hectic schedule has a negative influence on work-life balance. Additionally, retailers often depend on you to work extra to keep up with client demand even when it is unexpected. If you operate a store, you must also devote time to purchasing products, paying bills, and making business-related choices such as finance and marketing.
Expensive Machinery
The expense of tools and equipment is likely one of the most significant hurdles to entry into this profession. The good news is that if you go to a trade school, many of them will have connections with various firms that will provide you with tools at a subsidized cost throughout your training.
Getting started with this will be beneficial, but there will be much more that you will need. Aside from that, there are grants and other opportunities to get savings on tools and equipment, many of which are particular to your geographic region. Of course, it goes without saying that if you are beginning your car shop, these costs will be significantly greater.
To connect with today's consumers, you'll need to use online marketing. As our lives become increasingly entwined with the internet, businesses must follow suit to remain competitive.
We'll go over five of the top digital auto repair marketing methods you should start using right away.
List your business on Nextdoor
As a first step, promote your auto service business on Nextdoor.com.
Begin interacting with the community by claiming your free business page. Nextdoor neighbors are people who live within a short distance of your company.
An authentic network of trust and authenticity is formed, giving you direct access to your target market.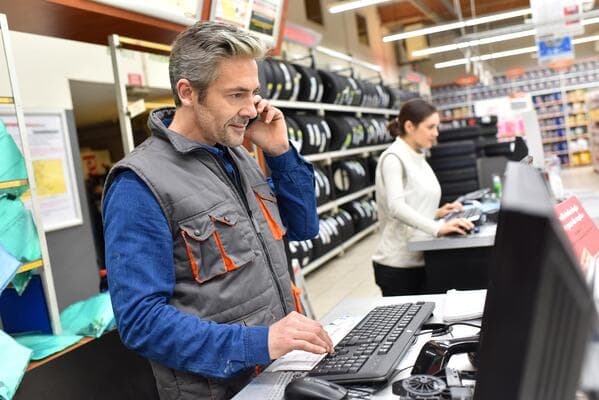 Your clients can recommend your garage on Nextdoor, and you, in turn, can promote your local auto repair service or those that you've partnered with on the social networking site.
You can also educate your customers about any reopening schedule adjustments or show them how you are changing your typical business to ensure that everyone feels secure and healthy while visiting your company. "
It is possible to exchange specials and deals with other businesses in your area and get direct messages from customers.
Bottom line;
You can market your business for free online using Nextdoor because of its role as a central location for locals to connect.
Website branding
Since your website is a virtual storefront, it should present a positive image of your auto repair shop to entice customers to stop by. The following are some fundamental best practices for building a website that effectively promotes your business:
Make your site mobile-friendly using responsive design since mobile devices account for most internet traffic, and search engines like Google prefer mobile-friendly sites in their rankings.
Your site's visitors and search engine rankings will improve if you implement HTTPS (Hypertext Transfer Technology Secure), a secure internet connection protocol.
Ensure that the information on your website explains your products and services clearly and precisely and provides reliable contact information.
Bottom line;
The name of your website's domain should also reflect the nature of your firm. Displaying live chat windows or placing a visible Contact option on each page will simplify visitors to your website to get in touch with you.
SEO
To be found online, small companies in the area need to implement SEO strategies. For example, according to HubSpot, a digital marketing software company, 72% of customers who conducted local searches, such as "Dallas auto shop," went to a store within a five-mile radius. In addition, Google estimates that 28% of local searchers purchase as a consequence of their inquiry.
Ensure that your website is search engine optimized by:
Investigate well-known keyword phrases related to your organization and naturally incorporate them into your website's content.
These keywords can be added to your social network biographies and review sites, for example, to increase your online visibility.
You can do this by creating pages on your website that focus on specific keywords, such as a page for each service your business does.
As previously discussed, the security and mobile-friendliness of your website might impact your search engine rankings.
Bottom line;
Your website may benefit from the help of a skilled web designer and an SEO specialist.
Email marketing
For those interested in learning about upcoming promotions, ask them to sign up for your company's email list. Ensure that you have permission before adding a customer's email address to your mailing list. Emailing clients without their consent can result in their labeling your business email as spam, which can hamper your ability to email additional customers in the future.
Depending on how many individuals you're emailing and how frequently, there are several free email marketing platforms you can employ. It's free to sign up and send 12,000 emails every month using Mailchimp, for example.
Email marketing can be used for:
Send new customers a welcome email.
Share information about new offerings.
Share blogs and other forms of content marketing with others.
Bottom line;
Use an email marketing software that provides one-click unsubscribes for all your subscribers. Using A/B testing, you can experiment with different aspects of an email to find what works best.
Promoting with Coupons
Auto repair shops can use coupons as low-cost, high-exposure advertising that appeals to new and returning clients. This type of coupon might be offered as a Local Deal in a local newspaper or on NextDoor. Exhibits include
The best deal on a new set of tires.
Overall cost savings.
In exchange for a different service.
A discount on a particular service in terms of money.
Bottom line;
Customers need to know what they'll get out of your deal, no matter what it is. Customers are more willing to participate if they believe they are saving money, even if it is only a few bucks.
Case Studies
Merlin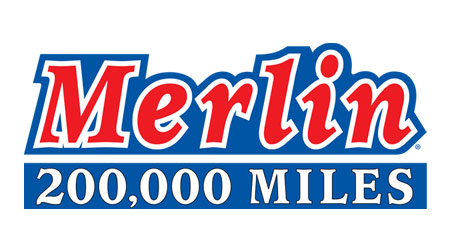 Background
Auto repair companies run by Merlin's have a reputation for making magic happen.
The primary marketing technique for Merlin's has been direct automobile mail.
As a result, response rates were consistently higher in the first several years of implementation.
As any leader in his field, Merlin was eager for more. Specifically, an increase in the number of vehicles passing by their shops without the need to advertise beyond a 2-mile radius.
Solution
Within those 2-mile marketing zones, they were already distributing postcards to every one of their target customers.
Merlin expanded their successful direct mail campaign by launching a Mail2Moble service.
Direct mail offers were reinforced by distributing digital adverts to potential customers' mobile devices before and after getting the physical mailers.
To ensure that all communications are kept within the 2-mile radius, they used geofencing technology.
The digitally-augmented approach proved to be more effective than traditional marketing alone in attracting new customers.
To demonstrate the significance of this, Merlin ran an A/B test.
Postcards were sent to half of the lists, while mobile advertising was sent to the other half. Inevitably, the combined approach was the most successful strategy in this case.
Results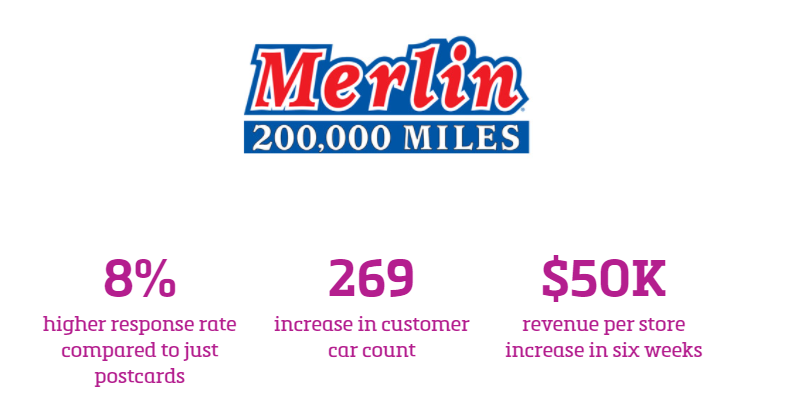 Burt Brothers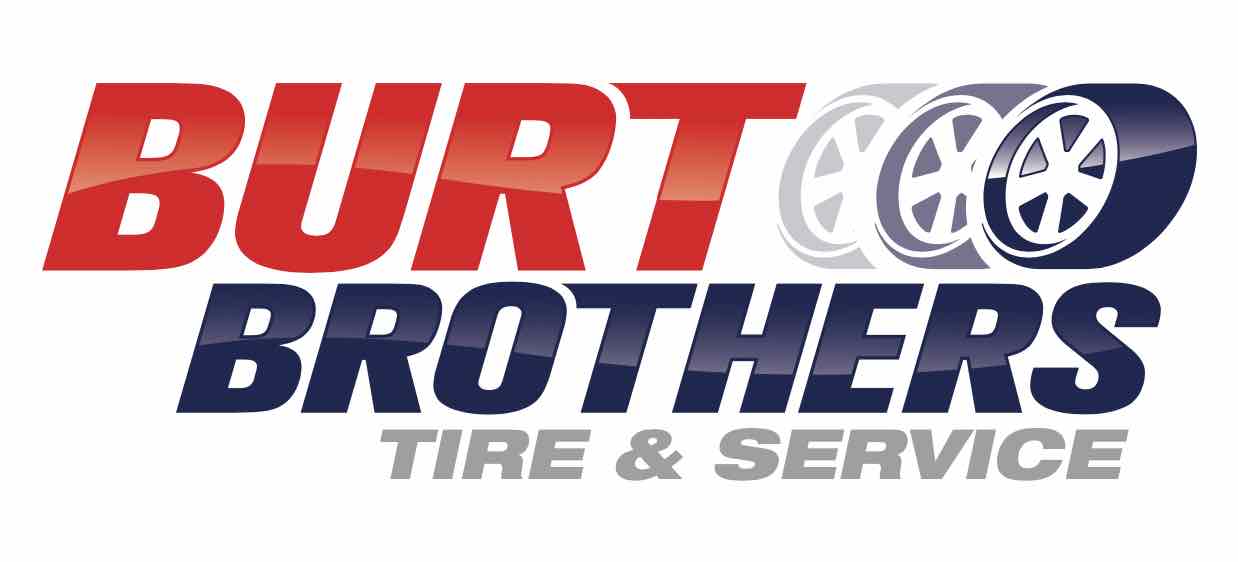 Background
In northern Utah, Burt Brothers Tire and Auto Repair is a household name.
A total of 12 venues are available among Bridgestone's top-selling distributors. And it has no intention of slowing down.
Burt's directors intended to improve on an already effective direct mail campaign for auto repair businesses.
Solution
As a result, they ran a test campaign. They used the knowledge they gathered from working with over 5000 car repair companies.
The organization delved into its growth goals, staffing, and client data to better understand its business.
They used penetration surveys to identify the best places to mail in each market and the best times to do so.
Burt analyzed current market data to choose the most effective direct mail offers.
Their data-driven approach established the best number of postcards to be mailed: 10,000 postcards were mailed four times over two months.
Results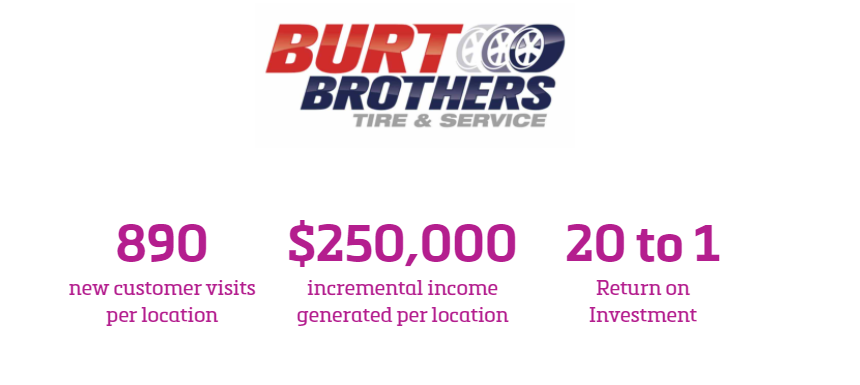 Anderson Automotive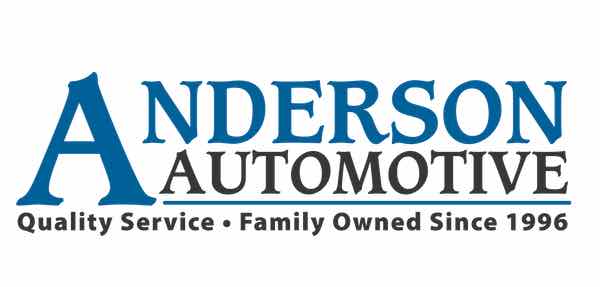 Background
Because of their excellent customer service, Anderson Automotive has a strong repair shop business.
Increasing demand for Anderson's services necessitated the hiring of additional technicians.
The problem was that they didn't yet have enough vehicles to keep all of their techs active at all times.
There had to be more than word of mouth if Anderson was to continue to flourish.
Solution
Before anything else, they surveyed their local area. Auto repair firms were underserved in neighboring locations while they were focusing on the immediate community.
As a result of these new neighborhoods, the number of potential clients expanded significantly.
After that, they used data-driven targeting to generate more qualified leads with a more excellent value.
Postcards with a high-impact design and messaging were paired with a detailed mailing list.
Anderson's business was doubled in the first year thanks to the new program's auto repair direct mail marketing.
Results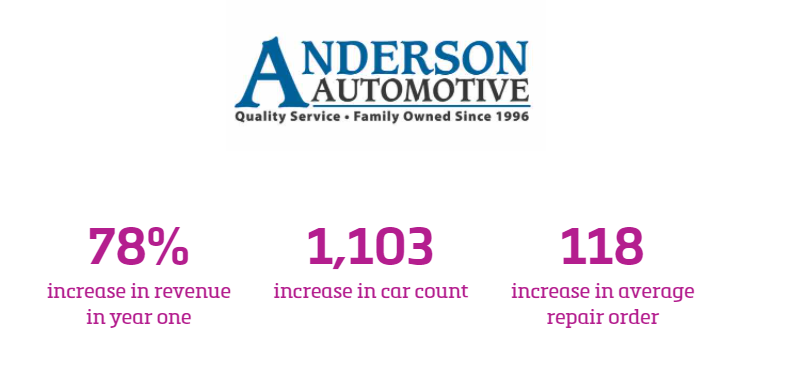 Final Thoughts
In this article, we have considered the current state of marketing used by the top auto service companies in the US. We broke down their recent marketing campaigns and analyzed what is working for them, what isn't, and what they can do to improve their campaigns.