NFC tags are gaining traction in the United States despite still lagging behind Europe and Asia. Knowing that consumers are more likely to enjoy and value experiences powered by NFC tags than QR codes or Beacons, retailers and brands leverage the technology to achieve personalization and unparalleled experiences, particularly fashion and alcoholic beverage companies. They employ best practices such as pairing NFC tags with other proximity marketing technologies while observing limitations and ensuring customers derive actual value from their experiences through gamification and practical features. Unfortunately, not many home improvement brands adopt NFC tags for marketing purposes, typically limiting their use to payment solutions. A detailed explanation of how this fact was determined was provided at the end of the report, in the Research Strategy section.
Consumer Insights
NFC Alternatives
QR Codes
Home Depot is another big retailer that uses QR codes to engage customers. The company has "deployed hundreds of codes from the platform on media like newspaper circulars, in-store signage, local events, and more. Each of the codes link to relevant content based on the product the customer is scanning with options like video demos, useful tips, and even an option to 'buy it now.'" Additional content includes reviews and product information.
SnapTags
SnapTags are scannable 2D barcodes, similar to QR codes; however, this technology turns images into a barcode. "Whether it's a logo or special icon, SnapTags will surround the image with a "code ring," a black-and-white ring with dots that can be configured into thousands of combinations and unique codes. Users can either scan the SnapTag with their app or take a picture and text it to a designated number, which will reply with the marketing message."
Regardless of the name, SnapTags are not part of Snapchat (that would be Snapcodes). They were invented by Spyder Lynk.
SnapTags allow better product design and have the potential to "reach a wider audience, namely those without smartphones or reader apps, because SnapTags can be accessed via a normal camera although it still requires that users do an action (text or email) to activate the code or that they download an app." Content can be changed or reused.
SnapTags' adoption and awareness rates are inferior when compared to QR codes. They were released in 2011, and unlike NFC tags, there are no indications of increased used over the last two years.
Pincodes
Pincodes were added to the list due to early adoption by home improvement brands. However, it is unclear if these brands are still using Pincodes in the United States.
Pinterest's Pincodes function similarly to QR Codes and SnapTags. However, in order to read a Pincode, customers must use Pinterest Lens to scan it, which could be viewed as a negative point. Additionally, it does not seem to have high adoption rates in the United States.
Creating Pincode is easy and cheap. Companies must log into their business account, click on the board, select Create a Pincode, customize the image, click on Download Pincode, and share or print the code. Like QR codes, they are also vulnerable to damages.
 Pincodes direct customers to companies' Pinterest boards. For example, Nordstrom used Pincodes to direct customers to the board of "Gifts under $100," while Kia created a "Pincodes display at the Los Angeles Auto Show to showcase design features for the all-new 2018 Kia Stinger."
A Pincode is colorful ring that surrounds an ad image. This image is customizable.
UK Furniture store Neptune also adopted the technology.
Fiona Strang, Marketing Director at Neptune, said, "Our customers really engage with the content from our own Pinterest boards as well as those from other brands, other magazines and other users. Our Pincode has been a really valuable and interesting test to see how Livingetc readers respond to the new technology. It's been a great success."
Image Recognition
Imagine recognition is a "subset of computer vision." It can be used to analyze consumer behavior and to create engaging experiences. The purpose of image recognition is "similar to that of computer vision, i.e., to automate the performance of a task. In image recognition, these tasks are varied. For instance, they can be the labeling of an image through tagging, the location of the main object of an image, or guiding an autonomous car." Considering the purpose of this report, the only functions examined will be the ones that are comparable to NFC tags.
Some stores use image recognition to provide "scan-to-shop" in-store experiences. For example, Nordstrom created shoppable style guides, lookbooks, and catalogs. "The tools empower customers to browse products across all their devices — and to make purchases from images and video in one click." These digital catalogs resulted in a 164% increase in average order value compared to Nordstrom native app.
House of Blue Beans is "using CG content to build shopping experiences based on AR/VR and image recognition" for Lowe's. The retailer also partnered with Google to use computer vision to give consumers "turn-by-turn digital directions to the product they need using the most efficient route."
Neiman Marcus created the "Snap. Find. Shop." App. "Whenever users see a pair of shoes or handbag they like, they can use the app to take a photo, which is then used to search the Neiman Marcus database using smart image recognition."
Image recognition can help customers visualize possibilities, such as how a certain furniture piece would look in their living rooms. At the same time, these technologies are complex to implement and usually expensive. Additionally, there is controversy surrounding computer vision, AI, and data and privacy concerns.
Bluetooth Beacons
Bluetooth Beacon technology allows "mobile apps to listen for signals from beacons in the physical world using Bluetooth technology and act accordingly. They deliver hyper-contextualized content to users based on their location."
In 2017, Target added indoor mapping powered by beacons to improve customer experience and engagement. The feature, "GPS for your shopping cart," shows customers their real-time locations and if they are closer or farther from the item. When consumers are near one of the stores that carry this technology, they are prompted to opt-in to share location and receive notifications. Target promises that they'll "only send two notifications per shopping trip, so customers aren't annoyed and overwhelmed. These will include special deals and discounts."
Beacons have a 50 m range versus NFC's 4 cm. They can push content actively, while NFC need to be triggered by the consumer; however, this could be viewed as intrusive by consumers.
They are more expensive to implement than NFC but are not disposable. They require battery management and are vulnerable to signal interference.
Companies using NFC Technology
– Successful Case Studies
Mammut
Mammut Sports is a retailer specializing in apparel and equipment for outdoor activities, with multiple stores worldwide. The company partnered with Smartrac to help "customers transform for the digital age." At NFR 2019, the premium outdoor brand presented its first "NFC-enabled products and the corresponding smartphone app Mammut Connect."
"When a smartphone is tapped on a product's NFC touch point, the app delivers digital content and services to customers throughout the product's lifetime, as well as supporting retail channels with in-depth product information to enhance the sales process. All NFC-enabled Mammut products come with embedded Smartrac CircusTM Flex NFC tags, equipped with an NXP NTAG 213 IC. These tags are specifically designed to resist harsh environments and have passed a very strong acid test as an integral part of their value proposition and a requirement to fully support long shelf life."
Source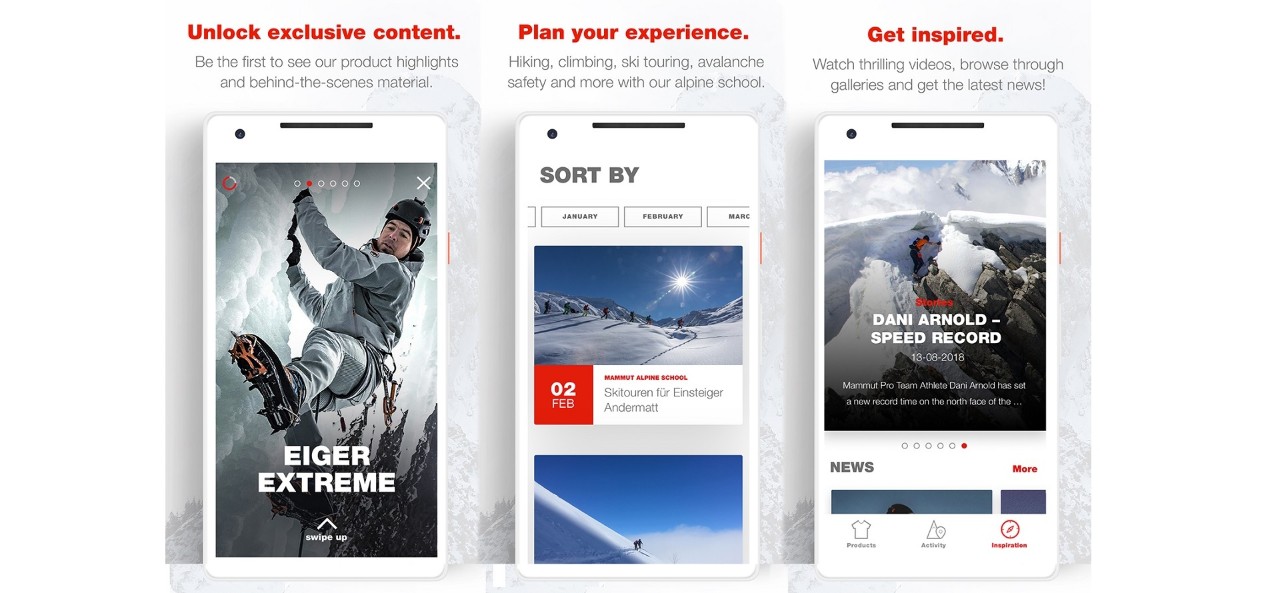 Consumers could access product information and services in the app, such as "warranty extension, videos and stories that enable virtual brand experiences." They could also access "exclusive invitations to outdoor events in cooperation with trade partners." Content revolved around how-to videos, new launches, consumer stories, and photos.
The app achieved good adoption rates, reaching more than 30,000 users in a short period. Tracy Bull, Head of Consumer Insights and Connectivity, declared, "We are definitely achieving what we intended to achieve. We are happy with how well the app has been received in our customer community and have gained a wealth of insight that we never thought possible."
The company announced it is pausing the app in October 2020. However, it is important to note that the change is not necessarily connected to the success of the tags. Conzzeta, Mammut owner, stated in its Half-Year Report 2020, that Mammut was severely hit by the pandemic and physical sales dropped significantly. It is now taking measures to mitigate the financial impact, saying "the allocation of resources available must be prioritized even more clearly." The company is also more focused on direct-to-consumer sales now.
Chambers' Apothecary
 Chambers' Apothecary is a compounding pharmacy, located in Pennsylvania. It "prided itself on delivering an extraordinary degree of customer service. But with thousands of alternative health products for sale, the challenge for Chambers has been to provide expert advice to customers on all of those products."
As a small business, it does not have the same financial resources or staff members as other entries on this list. "Chambers has a lot of natural products and vitamins, and customers are always asking questions about them," said Janelle DelSignore, Purple Deck's Marketing and Sales Manager. 'They want to know, 'What will this do for me?' There's not enough room on the product labels to explain all the benefits."
The solution was installing small, self-adhesive tags on shelves and encourage consumers to tap the tags with their smartphones. "The tags, provided by Purple Deck, can be managed and updated remotely, thereby simplifying mobile content delivery." Since the tags can be reprogrammed remotely, they do not need to be removed or replaced individually.
DYNE
Blue Bite commissioned Forrester Research to examine the results. Some highlights:

Implementation costs were around $70,000. However, Forrester explains that costs are deeply related to brand size, and most companies should expect a 50% higher cost. DYNE paid $0.5 per chip/garment and $13,750 per campaign.
Forrester's financial analysis shows that DYNE "experienced benefits of $280,517 over three years versus costs of $87,815, adding up to a net present value (NPV) of $192,702 and an ROI of 219%."
Including NFC tags enabled DYNE to see real-time metrics such as repeat use, product activation percentages, and experience interactions. As such, the company discovered that "10% of products had been activated, and repeat usage grew by 40%." Furthermore, website traffic increased by 250%.
Kraft Heinz
Kraft Heinz leveraged NFC tags to drive consumer engagement pre- and post-sale during the launch of their new line of salad dressings at Walmart. The company did not want the new line to get "lost in a sea of similar offerings," said Josh Burns, associated director of shopper marketing for the company's Walmart team. "Getting a brand new item with only a few facings to stand out seems like an insurmountable task," he added.
Kraft added NFC tags to the package and a discount coupon. When consumers tapped on the package label before tearing off the coupon, they received a Kraft Singles recipe on their smartphones. After purchase, "opening the package and breaking the tamper loop in the NFC tag enables a second tap experience. The shopper is invited to play the 'Find the KRAFT Golden Singles' scratch-and-win style mobile game and is given an opportunity to earn a $50 Walmart e-gift card at each participating store."
The experience was managed by TPG's Tap Technology. "In an easy to follow process, the consumer swipes their finger across their screen to reveal either a winning tile or a "Try Again" option that includes a link to dynamic KRAFT Singles recipes. These recipes change based on location, day of the week, and social media trends. The tap-and-go NFC label is compatible with Android mobile devices and Apple iPhone 7 or newer (with the latest operating system)."
TPG's John Galinos further adds, "The NFC chip that we deployed for the Kraft program was unique as the content that the consumer received changed based upon if the package was sealed or opened. It remains at this point the largest consumer-facing NFC based program Worldwide."
Videos showcasing the experience are available here and here. These additional videos show the in-store experience.
Jimmy Jazz
 Fashion brand Jimmy Jazz reinvented its in-store experience and loyalty program using NFC technology. The brand wanted to encourage consumers to enroll in its loyalty program.
A large TV screen was placed at the flagship store's shop window and fitted with NFC technology to "enroll customers from the street." The screen "constantly looped an awe-inspiring animation, tempting people to touch their phones to the screen. When they do so, the screen changes, congratulating them — which is positive reinforcement. Simultaneously, the NFC tag instantly loads up the loyalty program enrollment page to the user's phone."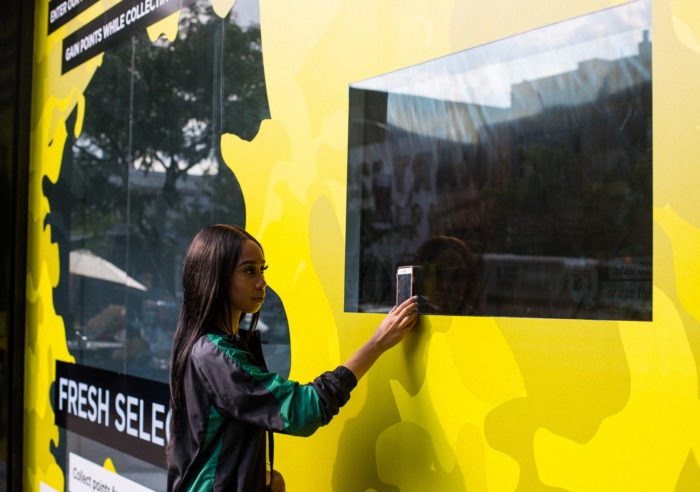 The brand's loyalty program is powered by Antavo's "Loyalty Experience Kiosk," which has a tablet connected to an NFC reader and sensors. "When loyalty members place their smartphone on the kiosk, they'll be logged into their profile instantly — or redirected to the enrollment page if they aren't a member yet. This is quite magical in itself, but the true experience starts here: by interacting with the tablet, customers receive real-time feedback on their phone, since the device is capable of two-way communication."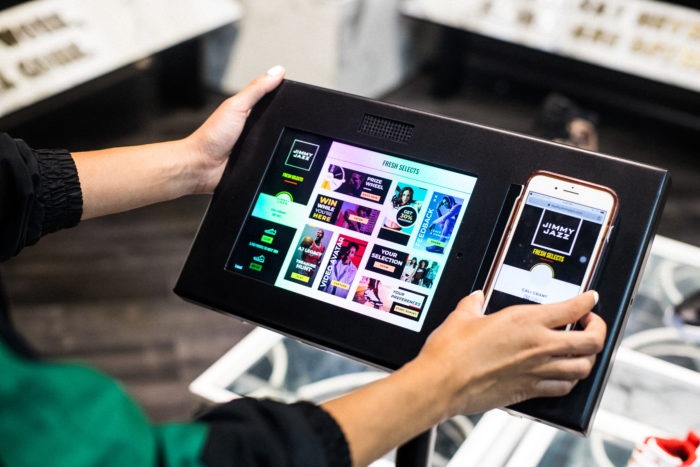 The program includes features such as Prize Wheel, personalized product catalog, product information, real-time sync with store inventory, treasure hunt, and facial recognition. It is unclear how many of the features provided by Antavos are actually part of Jimmy Jazz's loyalty program.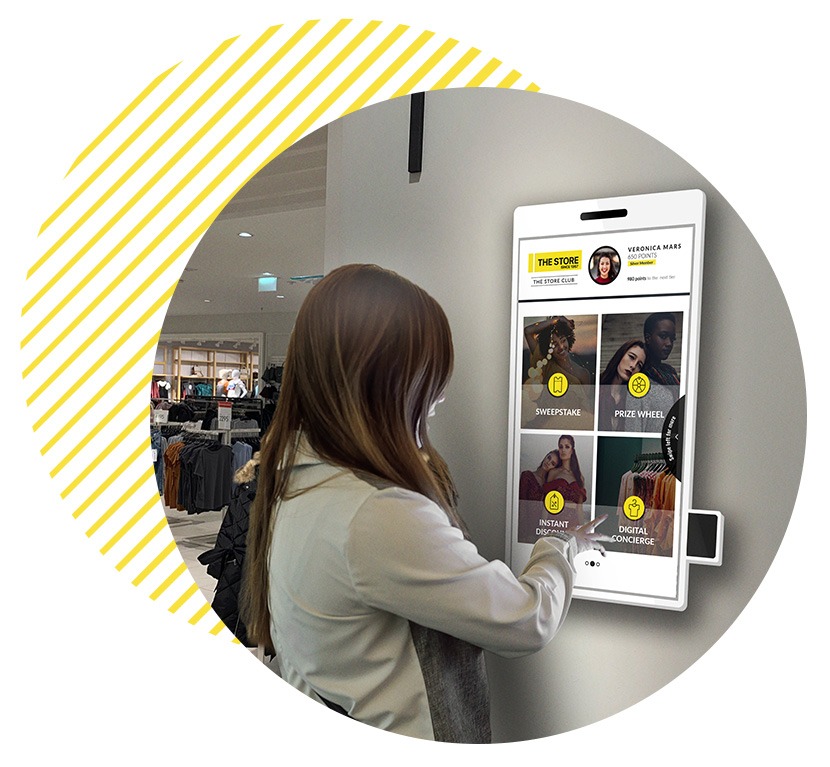 NFC Tag
Best Practices
Best practices were chosen based on industry reports, opinions of experts, and evidence from brands achieving success using NFC tags.
Best Practice #1: Paired Technologies
NFC is gaining ground. However, it is essential to consider that not all smartphones are able to read NFC tags, and not all consumers understand how these tags work. Therefore, NFC technology should be paired with other alternatives.
A popular combination is providing an NFC tag and a QR Code. According to a report released by the RFID Journal, this is a powerful combination since "all smartphone users will be able to access content, regardless of the technology being used."
McKinsey's model retail store, The Modern Retail Collective, uses a combination of NFC, RFID, and AR to create the ultimate consumer experience.
 
Best Practice #2: Added-Value
Jameson Irish Whiskey's annual St Patrick's Day limited-edition bottles included NFC tags that allowed consumers to "tap to design their own custom label and enter a competition to win a personalized limited-edition bottle."
Moët Hennessy created "NFC-enabled Private Access Cards that activate a Blue Bite-powered digital experience that provides users exclusive access to events and product recommendations. These invitations and recommendations change within the experience, dynamically, depending on events available and the consumer's previous engagement history to provide a personalized experience."