Goals
The goal is to craft two solid and implementable local SEO strategies. The focus is on examples from small businesses and what they did to improve their SEO.
According to an article by Five Channels, approximately 78% of local mobile searches lead to in-store purchases, and this is one of the major reasons why small businesses are going for local SEO. However, local SEO can only be effective when done right. Suggestions on how small businesses can improve their local SEO search engine rankings have been curated and presented below.
Local SEO Tips
1. Create a Google My Business Account
An article by Yoast SEO, a search engine optimization plug-in for WordPress, reported that it can be quite difficult for a small business to get a local ranking in Google without a proper Google My Business listing.
WordStream also stated that having a Google My Business listing might be one of the most effective ways for a small business to not only rank higher on Google Maps but also get visibility in Google Search local results.
After a business owner provides all the required information when creating a Google My Business account, the data will be added to the business profile (as seen in the image below) and will appear in Google Maps, Google Search local results, and the Google Search Knowledge Panel. WordStream provides information on how to create and verify a Google My Business account.
2. Get Positive Customer Reviews
Stable and regular positive reviews from customers is an important factor for search engine optimization. After creating a Google My Business account, a business should encourage customers to review its services or products as this will boost the presence of the account.
Regular positive customer reviews will also encourage more purchases, given that around 85% of customers believe online reviews as much as personal recommendations. A New York-based digital marketing agency, Main Street ROI, also concurs that regular reviews are important for a business to improve its local Google rankings and provides tips on how businesses can ask customers for reviews.
3. Identify and Use Local Keywords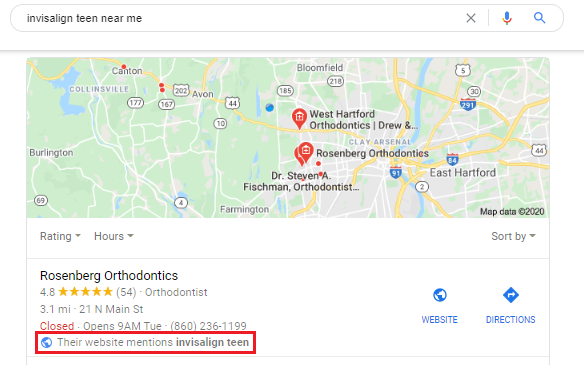 4. Optimize Website for Mobile
Approximately 60% of online searches are done on mobile devices in 2020 according to Main Street ROI and a survey by HubSpot found out that around 61% of mobile searchers will get in touch with a local business or store if it has a mobile-friendly website. These statistics prove that optimizing a website for mobile is an important factor as far as local SEO is concerned, and this might be the reason why around 51% of small businesses that perform SEO invest in mobile-friendly websites.
 Five Channels and WordStream provide tips that a business can implement when optimizing its website for mobile.
5. Get Local High-Quality Backlinks
High-quality links from relevant websites are important to local SEO as they factor in Google's local ranking algorithm. According to a Local Search Ranking Factors study by Moz, "link signals are the first- and second-most important factors for local pack results and for localized organic results, respectively." As a result, links are important for a business that is trying to boost its local SEO.
 WordStream, Main Street ROI, and Five Channels provide insights on how to get and use local high-quality backlinks to improve SEO rankings.
How COVID-19 is Highlighting the Importance of Local SEO
While SEO has always been important, the coronavirus pandemic has amplified its importance. SEO is proving to be one of the few differentiating factors between businesses amid the pandemic. With many people searching and shopping online because of the pandemic and fewer options for marketing tactics, SEO is giving some brands an advantage over others. According to Lemonlight, although some industries are experiencing steep declines, those with sound SEO strategies are witnessing an increase in traffic.
Additionally, with many people confined in their local communities because of the ongoing lockdown restrictions, consumers are looking for local businesses, making local SEO very important for small brands.
Some strategies small businesses can implement when creating SEO content amid the pandemic include; targeting COVID-19-related keywords, trending themes, and new terms, updating already performing content, and reoptimizing old but newly relevant content.