A competitive analysis of Truebill Budget & Bill Tracker, EveryDollar Budgeting App, Simplifi: Budget & Money App, Goodbudget: Budget & Finance, and PocketGuard: Personal Finance, Money & Budget is provided below.
1. Truebill Budget & Bill Tracker
 Truebill is a budget tracking app that promises to help users "take control of [their] money." According to Truebill, the app has helped users save over $14 million dollars by canceling subscriptions, lowering bills, requesting fee waivers and requesting credits for outages. The company is led by brothers Haroon Mokhtarzada, Yahya Mokhtarzada, and Idris Mokhtarzada.
Truebill has features that cover checking/savings accounts, credit cards and loans, investment accounts, bills, and subscriptions. Truebill allows users to create a budget, view spending reports that categorize spending, as well as monitor total spending each month, anticipating earnings, and view upcoming bills. Users can monitor and cancel subscriptions within the app, as well as request Truebill to negotiate their eligible bills for lower rates. Truebill allows users to set automatic savings withdrawals in order to achieve savings goals.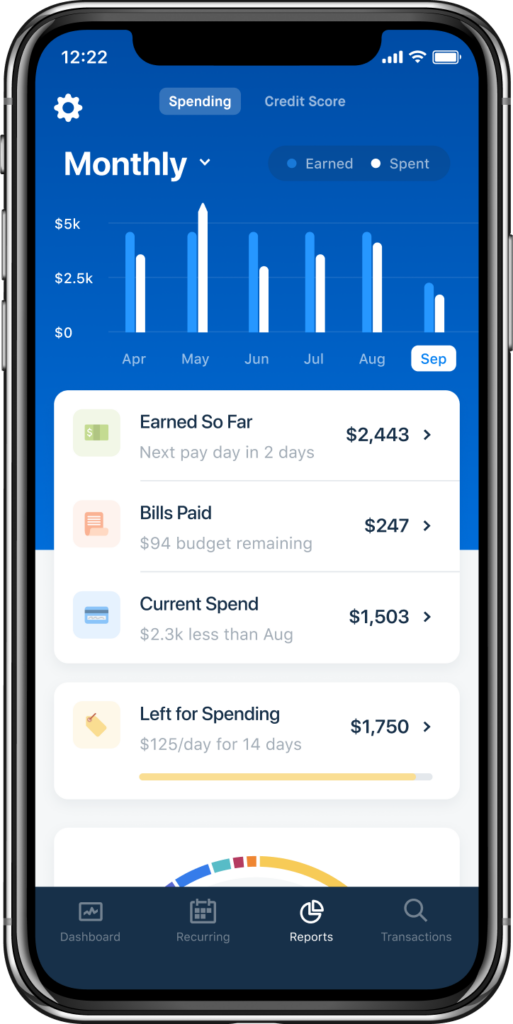 2. EveryDollar Budgeting App
 EveryDollar is an app that promises to help users "achieve [their] money goals." The app is based on zero-dollar budgeting and was created by financial-guru Dave Ramsey. The app has more than 7 million users, whom reportedly can save up to $2,700 in the first 90 days by using the app.
The EveryDollar app is primarily a budgeting app, allowing users to enter their income, set up a budget, and then enter and track expenses in each budget category. All transactions must be entered manually on the free version of the app, however, the premium version allows for automatic tracking. Users can also view multiple accounts including investments and loans, and view spending reports. The app also syncs across devices, including on mobile and desktop.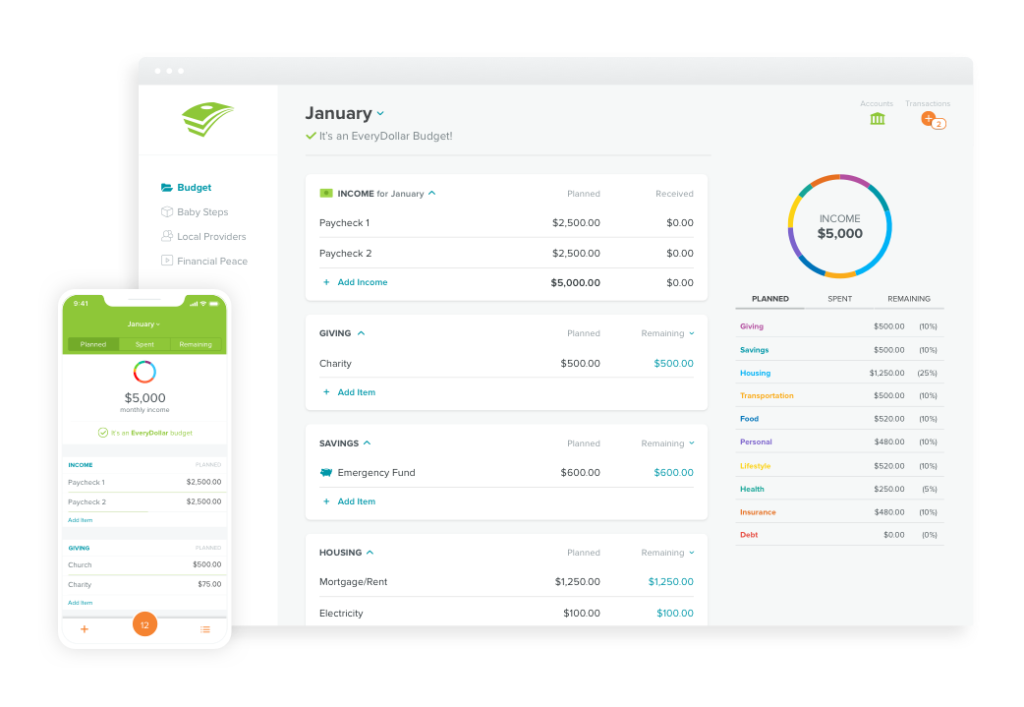 The basic version of the app is free to use, but the premium version, called Ramsey+, costs $129.99 per year. This premium version includes many more features such as: automatic transaction importing from a user's bank, the ability to view all bank accounts in one place, the ability to view custom spending and income reports, and access to other Dave Ramsey apps like FinancialPeace and BabySteps.
Users enjoy the app for the control it provides them over their budget. For example, one user stated: "Love the app, I've been able to find where I overspend and can make my money work for me." Another user stated: "Great for budgeting your money so you know where it is going and not wondering where it went."
The EveryDollar budgeting app is unique in that it promotes envelope-style budgeting. As it was created by financial-guru Dave Ramsey as part of his Baby Steps program, it has received much publicity and has a dedicated following. EveryDollar is also popular because of how simple the program is, with users being able to create their first budget in "less than 10 minutes."
3. Simplifi: Budget & Money App
 Simplifi describes themselves as "a fresh approach to managing your money." The app is primarily focused on providing users a broad view of their finances and allowing them to set major money goals and manage spending. Simplifi was created by Quicken, a personal financial management desktop software.
Simplifi includes features that allow users to view banking, credit card, loan and investment accounts in one place, identify, track and cancel recurring subscriptions and bills, automatically categorizes transactions, view upcoming bills and income, set up custom alerts, create a personalized budget, and set and track savings goals with built-in calculators. Simplifi also provides helpful financial insights, allows users to sync across devices and desktop, and provides many opportunities for customization.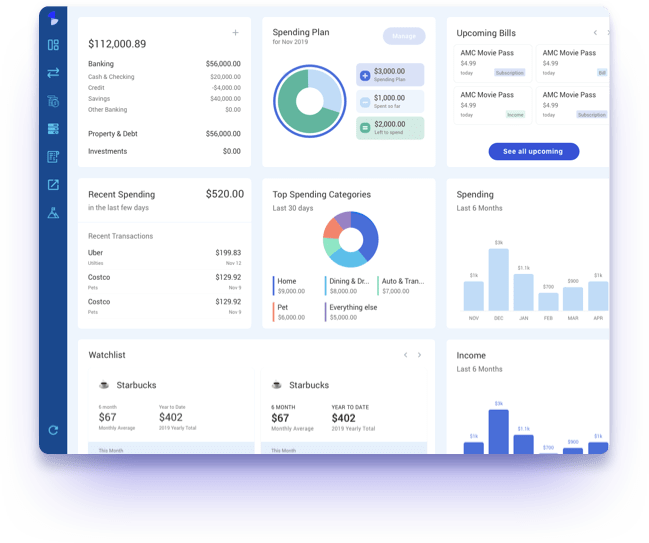 Simplifi only offers paid plans. The basic plan costs $2.99 per month or $35.99 annually, and the premium plan costs $3.99 per month. The premium plan
The New York Times recommended Simplifi as "the best budgeting app for most people" due to its ease-of-use, well-designed interface, and personalized spending plans.
Simplifi is unique from other personal finance apps in that it provides a comprehensive view of a user's finances, allows for custom spending alerts, is simple to set up, encourages a positive outlook on money, and has no ads.
4. Goodbudget: Budget & Finance
 GoodBudget is a modern take on the traditional envelope budgeting system. The app promises to help users "spend, save, and give toward what's important in life."
The Goodbudget app allows users to create budgeting envelopes for each category of spending they wish to track. Then, users can track spending in each of those categories by syncing bank accounts (only one account is allowed in the free version). Users can utilize the same budget across multiple different devices, allowing them to stay on the same financial page as their spouse or other family members. Users can also create savings goals and track progress on debts.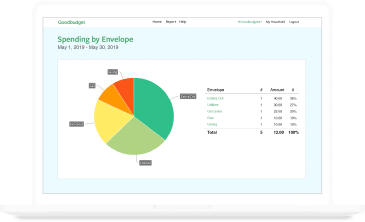 The basic version of Goodbudget is free, but the premium version costs $7 per month or $60 annually. The premium version includes extra features such as unlimited envelopes, syncing with unlimited financial accounts, use on up to five devices, storage for 7 years of budgeting history, and email support.
Goodbudget is popular because it is easy to use and allows users to adjust budgeting categories as they need per month to cover over-spending. Users also enjoy personalized reports and the ability to use the same account with multiple devices, for example so spouses can utilize the same budget.
The Goodbudget app is unique in that it is based on the envelope system of budgeting, which they tout as "tried-and-true."
5. PocketGuard: Personal Finance, Money & Budget
 PocketGuard promises to help users avoid overspending by doing the math to let them know how much disposable income they have at any given time. The app calls this figure the "In My Pocket" figure, and it is calculated by their proprietary algorithm that boils down to "Income — bills — Goals — Spending&Budgets = IN MY POCKET".
In addition to the "In My Pocket" feature, PocketGuard automatically categorizes transactions, including sub-category hashtag categorization, provides spending reports, allows users to create savings goals and make automatic savings deductions, create and monitor spending with a budget, and identify savings through personalized financial services offers for lowering bills, loan payoff, credit score improvement and more.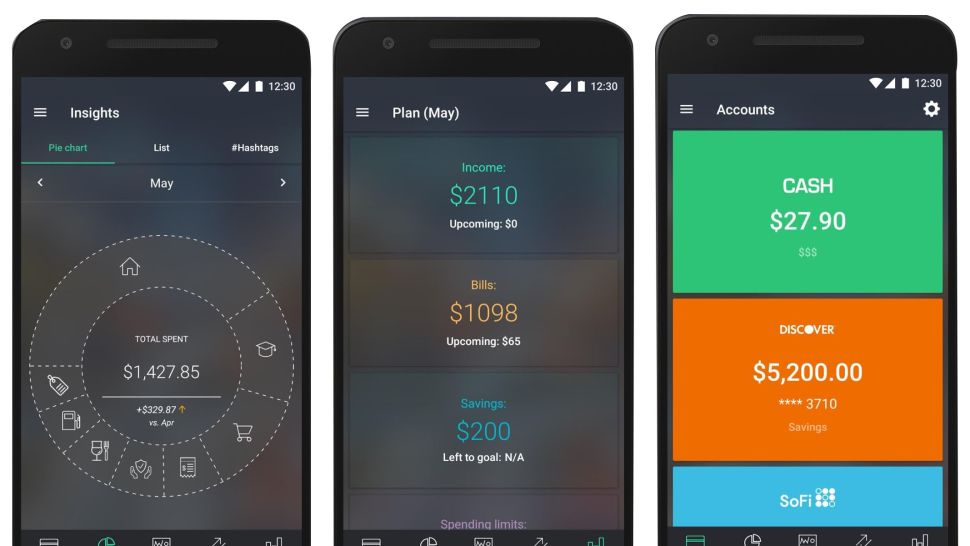 The basic features of PocketGuard are free, but the app also has a premium subscription that costs $3.99 per month. The premium subscription includes the following features: user-created categories, allows users to change transaction dates, allows users to export transaction data, allows users to create unlimited goals and categories, allows users to track spend and received cash, allows users to manage ATM transactions, and finally allows for users to split transactions into multiple categories. The premium features can be obtained for free with the PocketGuard referral program. 
Users enjoy the "In My Pocket" feature as well as cite the accuracy of the automatic transaction categorization. For example, one user says: "I really like the idea of having an app that tells you how much is safe to spend without endangering your bills money. It does a pretty good job of categorizing automatically, the need to re-categorize is minimal." Another user states: "This app is great if you want something very basic to track your expenses. Bank accounts sync flawlessly, and it is easy to make a custom budget and track purchases."
PocketGuard is unique in its simplicity, providing a streamlined approach to budgeting that simply focuses on letting users know how much they can spend at any given moment. Reviews of the app also cited its well-designed, simplistic user-interface.