Examples of best practices for B2B sales emails include the use of natural and conversational tone and the use of simple and single direct CTAs.
1. Use Natural and Conversational Tone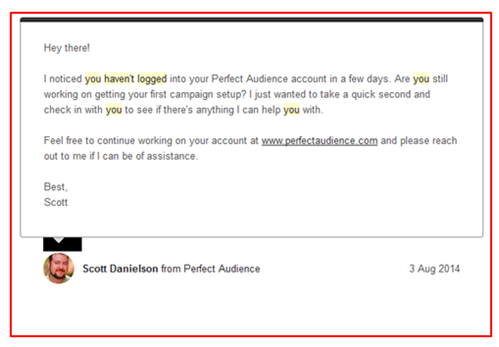 2. Use Simple and Single Direct Call-to-action (CTA)
A CTA encourages email recipients to take a specific step. The CTA should be simple and limited to one or two.
According to Capterra, prospects should be fully informed of what actions they are supposed to take and should never be left wondering what to do. The email should make it easy for prospects to take the next step by using a simple and direct call-to-action.
According to Leadfeeder, excessive links and attachments flag emails as spam and "trigger the effects of too much choice—taking action becomes harder for the recipient."
CTAs should be "simple, straightforward, and very reasonable." If asking for a call/demo, the CTA should give specific dates and time, they should make complex requests simple, and should leave no room for misinterpretation.
Below is an example of a simple and single CTA from LinkedIn.
 
Research Strategy
We started by searching through blogs and publications relating to B2B sales emails. Our primary focus was on best practices around tone or kind of messaging, and cadence in B2B sales emails that are mass sent to a large list of leads. In compiling this information, we examined case studies, professional tips, and the opinions of experts.
After finding a large list of articles and blogs with information on B2B sales emails, we sorted out these articles and blogs in terms of relevance and consistency. We then listed out the most common and repeatedly mentioned across trusted sources.