While a B2C brand like Patagonia can advertise a slogan that says "Vote the Assholes Out", B2B brands are very restrained in their communications and seldom create bold campaigns. This report comprises five examples of B2C brands and one example of a B2B brand's marketing campaign/commercial with themes related to the pandemic, the US elections, and the Black Live Matter movement.
US ELECTIONS
Ben & Jerry's Justice Remix'd
Ben and Jerry's, known for its liberal views, launched a new flavor–"Justice Remix'd, a cinnamon and chocolate ice cream with cinnamon bun dough and fudge brownies"– targeted primarily at younger and first-time voters to spark a conversation about "racial inequity and criminal justice reform." The company, in its press release, said that "young people (37% of the voter base) have the ability to determine the outcome of this election."
The brand promoted its voting initiative on Twitter and Instagram where it invited consumers to keep "justice on the brain—and the spoon!"
The brand also ran a "Pledge to Vote" sweepstakes contest, wherein those who pledged to vote between Oct. 11 and Oct. 25, stood a chance to win Killer Mike's (donated) pair of Nike SB Dunk Low "Chunky Dunky" (created in partnership with Ben & Jerry's) size 13 sneakers, all four albums of Killer Mile's music group Run The Jewels, a Run The Jewels hoodie, and a year's supply of ice cream.
"Ben & Jerry's channels also served updated voting information, including early voting state lists, polling locations, and an hour by hour countdown to election day. For those that visited a Ben & Jerry's store prior to voting, the shops included local election information and ways for customers to register to vote or check their registration."
According to a Gartner forecast, "promoting its voting initiative and ice cream release could grow Ben & Jerry's audience and boost interactions with its socially active consumers."
Patagonia's "Vote the Assholes Out"
"Known for its strong stance on environmentalism, outdoor brand Patagonia included a special message on the labels of its 2020 Men's and Women's Regenerative Organic Stand-Up Shorts— the underside of the backside tags of the shorts read "Vote the Assholes Out". The Regenerative Organic Stand-Up Shorts were chosen as the brand has been standing up to climate deniers for almost as long as they've been making" them.
"Patagonia's founder, Yvon Chouinard, had been talking about voting the assholes out for several years and by 'assholes,' he meant 'politicians from any party who deny or disregard the climate crisis and ignore science.'
"Outside of the shorts, Patagonia also provided on its site resources for customers who want to vote for those supporting climate change. There, it presented a tamer statement, 'Vote climate deniers out of office.'"
Through an interactive map, the brand's website highlighted Senate races where there was the most opportunity for climate change, urging voters to consider.
BLACK LIVES MATTER
Salesforce's BOLD
Salesforce showed support for the Black Live Matter movement via social media. The company created a new Twitter handle around Black employees named BOLD (Black Organization for Leadership and Development–an Employee Resource Group for Black employees and allies). The company blacked out its Twitter icon and has retweeted @BoldForce, which held livestreams on "Injustice and Race" to spark public conversations.
P&G's "The Choice"
"Procter & Gamble released a powerful ad, 'The Choice,' that asked White people to use their position of power in America to actively combat racism. The ad showed a close-up of Black and White people and addressed privilege. It debuted on the Oprah-hosted CBS special 'Where Do We Go From Here' that focused on the civil unrest that emerged following the death of George Floyd while in police custody."
The ad "emphasized that white individuals not personally being racist was not enough to create real change and implored them to acknowledge the role they play in fighting prejudice and serving as allies to racial justice causes. 'Now is the time to be anti-racist,' the ad read, urging viewers to participate in actions that could spread the word to others, such as marching, donating, and voting."
PANDEMIC
Burger King's "Stay Home of the Whopper"
Burger King launched an "ad promoting its delivery app and staying home during the coronavirus pandemic shutdowns." However, it did so with a humor-theme, at a time most brands were avoiding doing so (especially while taking a stand during a crisis).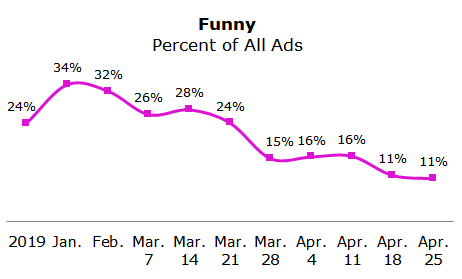 "Burger King took a stand to encourage consumers to honor the CDC's social distancing guidelines and stay-at-home orders in a playful way that also saluted the healthcare professionals who confronted the pandemic daily."
The "Stay Home of the Whopper" commercial encouraged consumers to be "couch po-ta-triots" and heroes by staying home to help prevent the spread of coronavirus.
Frito-Lay's "It's About People"
"Frito-Lay launched a commercial that boldly claimed that the middle of the COVID-19 crisis was not about brands. The brand preached that it was a time to "forget all the sales pitches disguised as emotional empathy or silly logo redesigns and that it wasn't a time to be 'advertising', essentially scolding other brands for being so gauche as to advertise in the middle of a pandemic," while using a commercial to do so.