Below is a summary of insights on key drivers, risks and relevant factors in the U.S. financial sector, as well as case studies of three financial institutions: BlackRock, J.P. Morgan Chase, and Citigroup. While the findings focus on large U.S. financial institutions, please note that due to the international nature of large financial institutions (for example, while Goldman Sachs is an American bank, it is considered a global bank), some of the data presented in the findings has a global scope. However, only data that is relevant and applicable to U.S. financial institutions is used.
INVESTOR PRESSURE
Pressure from investors come in many areas, from operation and performance to investment strategies. This section identifies two types of investor pressure: performance and social responsibility. As the financial sector is facing rising competition from other firms (discussed in the next section), investor pressure means financial institutions must act fast before losing investors to another industry.
1). Pressure on Performance
According "The State of the Financial Industry 2020" by consulting firm Oliver Wyman, "the need to invest and build the firm of the future is pressing" while "the window to deliver is gradually closing."
The report finds that the price to earnings multiple in the financial services has fallen from 14 times to 11 times. Investors take note of this. In North America, cost-to-income ratio for banks decreased by 8 percentage points between 2010 and 2018. While this indicates a marginal improvement, progress on productivity is slow. Compared to the tech and fintech sectors, financial services are becoming less attractive for investors (see the figure below).
Additionally, the report finds that investors are skeptical of change programs such as digital transformation introduced by financial institutions and do not feel that they understand what and why the firms are investing in these programs (see the figure below).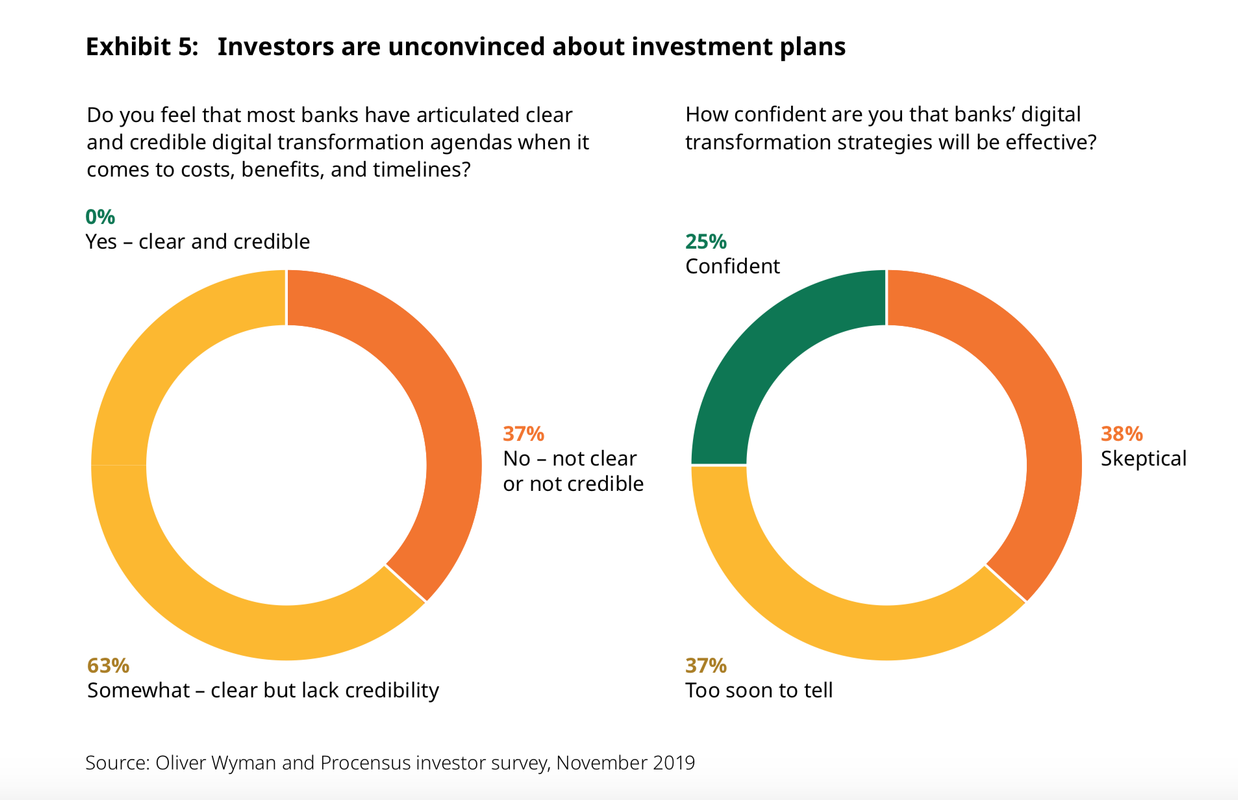 2). Pressure on Social Responsibility
While some believe that the pressure to take part in socially responsible investment is driven by real concerns over social issues, data suggests that ESG tends to generate higher returns. This tends to be in the financial interest of the investors.


RISING COMPETITION FROM TECH COMPANIES
There is an increasingly blurring line between the financial services and the tech sector. Most notably many major financial institutions have started to identify themselves as tech hubs while many tech companies are expanding into financial services.
"Almost a decade after the passage of the Dodd-Frank Act, what keeps bankers awake at night is not regulation by Washington, but competition from Silicon Valley"–Dan Murphy in the Milken Institute Review.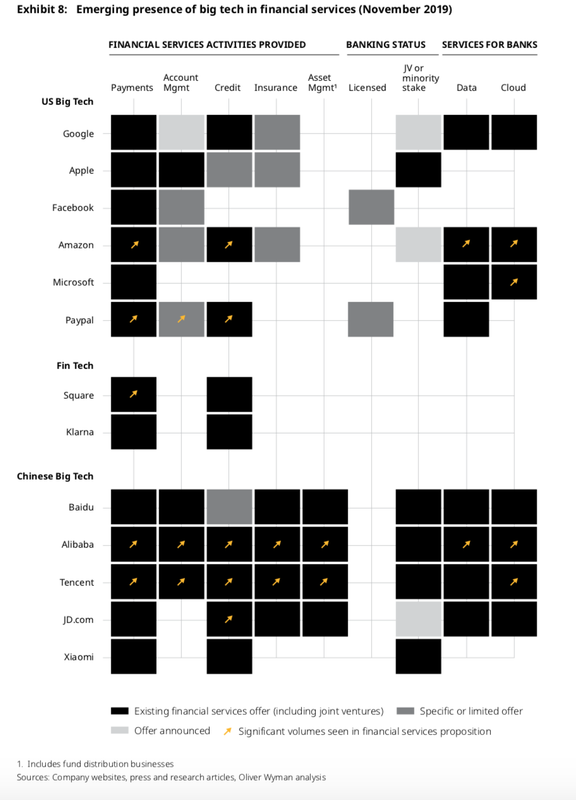 A report by the Financial Stability Board, an international regulatory group, suggests that competition from big tech could lead to reduced resilience of financial institutions "either by affecting their profitability or by reducing the stability of their funding. BigTech firms' widespread access to valuable customer data could also be self-reinforcing via network effects." The report also suggests that the partnerships between big tech and financial institutions may also pose risks if risk management and controls of big tech companies are less effective than those of financial institutions, which are regulated.
Large financial institutions have also aggressively invested in innovation–although investors do not yet have full confidence in such investment (see the previous section)–to keep themselves relevant in the increasingly technologically-driven world. For example, J.P. Morgan Chase invests $11 billion a year in technology with a team of 50,000 technologists. The bank claims that "JPMorgan Chase is in the midst of a once-in-a-generation transformation" into the disruptor technology. It claims that what differentiates the bank from tech companies is its ability to invest in a broad number of technologies simultaneously.
Nonetheless, the only barriers to entry for big tech are regulatory, not commercial or technological.
COVID-19 IMPACTS AND FINANCIAL RESILIENCE
Like other sectors, the financial services sector has been hit by the lockdowns of the economy as a result of the pandemic. The sector is also impacted in a number of other ways, such as credit, market and liquidity risks. As suggested in the initial findings, there have been rises in loan losses, which are still lower than the levels seen in the last financial crisis. This section looks at the impacts of COVID-19 and the resiliency of the U.S. financial institutions to absorb losses in the crisis.
REGULATORY RISKS
The last financial crisis triggered a decade regulatory reforms in the United States and globally. The focus of regulations is shifting towards financial and operational resilience, technological change and innovation, and responses to political and social pressures. Please note that, because of COVID-19, some regulations have been temporarily loosened to deal with the pandemic impacts. This section does not look at those temporary exceptions.
1). Regulatory System
2). Costs of Compliance
Global financial institutions are expected to spend $180.9 billion on compliance costs in 2020, according to a new report from LexisNexis Risk Solutions. Globally, the costs have increased by 7% over the past two years. The United States and Europe face the highest compliance bills, the research found. The rising costs are attributed to partly the volumes and complexity of regulations but are largely driven by higher costs of skilled labor required for compliance work.
The U.S. and Canadian financial firms are projected to see a 33% increase in compliance costs from 2019 to 2020. In the United States alone, the LexisNexis research projects costs to be $35.2 billion in 2020. Financial crime compliance professionals in the U.S. attribute an average of 23% of financial crime compliance cost increases to the COVID-19 impact. The research also finds the followings:
CUSTOMER RELATIONSHIP
As mentioned in the initial findings, there has been a shift to focus on building trust and customer relationship, particularly in the wake of the last financial crisis and a series of financial scandals by large financial institutions since then. Globally, "nine out of 10 banks are strongly interested in customer-facing ecosystems, with banks participating in a network of interlinked companies, working together to deliver value propositions to meet customers' core needs," according to Accenture. U.S. banks share this sentiment with their peers, as 87% say that customer-facing ecosystems initiatives will be the main driver of future value creation in the banking industry.
After the last financial crisis, financial institutions were widely seen as a big part of the problem. However, according to McKinsey, this time around they are seen as central to the solutions. With COVID-19 pushing many to move financial transactions online or digitally, "superior customer experience means clarity and transparency, support for digital tools with which many customers are still unfamiliar, and new products and services for customers in distress."
For banks, investing in customer experience was an imperative before the current crisis, both from a "good business" perspective and a "good bank" perspective. These factors have become more relevant than ever now. McKinsey's analysis of 23 publicly traded U.S. banks finds that the half with a high customer-satisfaction score delivered 55% returns to shareholders from 2009 to 2019.
Case Studies: BlackRock, J.P. Morgan Chase, and Citigroup
BLACKROCK
Please note that this section uses data from the 2019 annual report and Q3 2020 report as the annual report for 2020 has not been released yet.
BlackRock is an investment management firm. Its revenue is driven by investment advisory, administration fees and securities lending ($11.78 billion of total revenue of $14.54 billion).
In its annual statement, BlackRock suggests that the asset management industry continues to go through a period of consolidation, fee compression and technological transformation, at the center of its business strategy is anticipating this change and always evolving the firm from a position of strength.
Over the last decade, investors have increasingly recognized that portfolio construction, not security selection, drives the majority of returns. Investors have increasingly sought out managers such as BlackRock that have the offerings, technology and client service capabilities to execute a whole-portfolio approach.
Despite the current pandemic, BlackRock reports strong performance in the third quarter of 2020:
J.P. MORGAN CHASE
Please note that this section uses data from the 2019 annual report and Q3 2020 report as the annual report for 2020 has not been released yet.
The biggest driver of the bank's noninterest income revenue comes from asset management ($17 billion) and principal transactions ($14 billion), which is when "an adviser, acting for its own account, buys a security from, or sells a security to, the account of a client." This is followed by investment banking fees, lending/deposit-related fees, and card income. Net interest income is $57.2 billion, up 4%, driven by continued balance sheet growth and mix as well as higher average short-term rates, partially offset by higher deposit pay rates.
The cost and availability of financing are influenced by credit ratings. Reductions in these ratings could have an adverse effect on the firm's access to liquidity sources, increase the cost of funds, trigger additional collateral or funding requirements and decrease the number of investors and counterparties willing to lend to the firm. The nature and magnitude of the impact of ratings downgrades depends on numerous contractual and behavioral factors, which the firm believes are incorporated in its liquidity risk and stress testing metrics. The firm believes that it maintains sufficient liquidity to withstand a potential decrease in funding capacity due to ratings downgrades. (See the figure below credit ratings).

In its 2020 Proxy Statement, J.P. Morgan Chase stresses its exceptional client service and operational excellence. "Guided by the Firm's Business Principles, this year the Operating Committee deployed a Strategic Framework designed to reinforce the Firm's drive to be complete, global, diversified and at scale, so we can best serve clients at home and across the globe. Within this framework, there is a strong focus on the technology that will be key to the Firm's future success, including initiatives that will allow the Firm to reduce risk and fraud, upgrade customer service, make it easier to access products and services, improve underwriting and enhance resiliency."
CITIGROUP
Please note that this section uses data from the 2019 annual report and Q3 2020 report as the annual report for 2020 has not been released yet.
Citi has a strong global presence, with 47% of net revenue coming from North America, 22% coming from Asia, 17% coming from Europe, Middle East, and Africa (EMEA), and 14% coming from Latin America.
2019 is the bank's most profitable year since 2006 with earnings per share of $8.04, a 20% increase from 2018.
Summary of Case Studies
None of the three financial institutions chose for case studies is currently experiencing financial distress. BlackRock understandably does not appear to be at risk as it is an asset management firm, not a bank; thus, it is less exposed to consumer loans (as seen in the initial findings these are areas where loan losses are most prominent). Both J.P. Morgan Chase and Citi have exposure to consumer loans. However, both still maintain capital ratios well above the minimum regulatory requirements.